Kitchen Deep Cleaning Services San Diego Los Angeles
Recently expanded to Southern California, Calamus Enterprises now serves the San Diego and Los Angeles area foodservice businesses with kitchen equipment steam cleaning and whole kitchen deep cleaning. The company has over 12 years of experience and offers every foodservice business a guarantee to pass their local Fire, Health, and Food inspection.
CE Kitchen Cleaning Los Angeles and San Diego ℠
10736 Jefferson Blvd,
Culver City, CA 90230
CA area manager: Mike Shuliak
Email: [email protected]
Phone: (323) 515-9552
DUNS: 069423871
CAGE Code: 7RQE9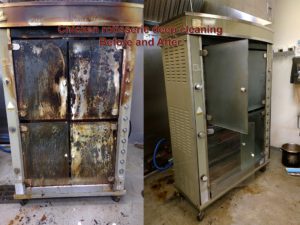 Kitchen Equipment  Deep Cleaning Services San Diego Los Angeles
Clearly, busy restaurant kitchens being high-traffic areas are prone to bacteria and dirt. Serving, preparing and storing food for customers requires a lot of responsibility, and presumably, no business owner wants to pose health risks to their clients. That is why keeping a kitchen hygienic becomes critical for the foodservice industry. While commonly used cleaning equipment – multi-purpose cleaners, bleach and regular wiping and mopping cleans certain surfaces, it is the bacteria in hidden crevices that can evade the kitchen and become a health hazard. Plus, besides the dirt, grime, virus and bacteria that restaurant kitchen may carry, deep steam cleaning becomes necessary for the kitchen equipment as it prolongs the lifetime of appliances. Our certified technicians use our Sanitech Mark 3 and MondoVap sanitation systems that reach even the most hidden dirt of the kitchen. Deep steam cleaning can remove 99.99% of bacteria.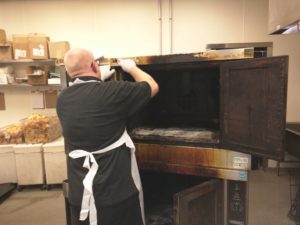 Commercial Kitchen Deep Steam Cleaning Services San Diego Los Angeles
Our professionals are insured, certified and trained to offer our clients with various cleaning options, excellent customer service that results in an overall client satisfaction.
Most frequent cleaning requests we receive from our clients are in regards to restaurant kitchens, but often we also provide schools, hospital, and churches with kitchen deep cleaning solutions. Some of the popular services we provide include the following: Equipment (Hot and Cold), Walls, Floors and Ceilings, Ancillary Items (Tables, sinks, etc.), Ventilation canopies and filters, Ventilation extract ductwork and so on.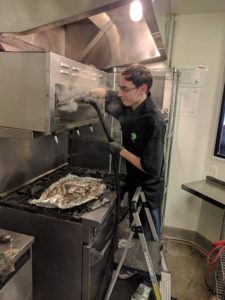 Restaurant Kitchen Deep Steam Cleaning Services San Diego Los Angeles
We differ from our competitors since we disassemble and reassemble each equipment to reach even the furthest corners of the kitchen. The hot steam combined with environment-friendly cleaning agents can clean everything including ovens, griddles, fryers, baking ovens, etc. We are a privately owned company, and all of our team consist of professionals with over ten years of experience in professional commercial kitchen cleaning services. We provide any kitchen with a comprehensive solution to match our client's needs. For further questions and a quote contact us here(e-mail/website).
Click here to read- Yahoo! Finance featured article about CE Kitchen Cleaning California
We service Los Angeles and San Diego metropolitan area including:
Los Angeles, Long Beach, Anaheim, Santa Ana, Irvine,Glendale, Huntington Beach, Santa Clarita, Garden Grove, Lancaster, Palmdale, Pomona, Torrance, Orange , Pasadena, Fullerton, El Monte, Downey,Costa Mesa, Inglewood, West Covina , Norwalk, Burbank, Compton, South Gate, Mission Viejo, Carson, Westminster, Santa Monica, Newport Beach, Whittier, Hawthorne, Alhambra, Buena Park, Lakewood, Lake Forest, Bellflower, Tustin etc.
CE Kitchen Cleaning ℠ is servicemark operated by Calamus Enterprises Llc. Calamus Enterprises Llc is not responsible any damages (health and property) caused by the service. All services rendered hereunder shall be provided in accordance with all ordinances, resolutions, statutes, rules, and regulations of ATN and any Federal, MD State or local governmental agency having jurisdiction in effect at the time service is rendered.