Kitchen Deep Cleaning Services Maryland and Washington DC
CE Kitchen Cleaning Maryland and Washington DC provides comprehensive kitchen cleaning solutions to Maryland and Washington DC and the surrounding areas. Our professionals are certified and trained to provide even the dirtiest kitchen with results that will qualify them to pass any health or fire inspections.
CE Commercial Kitchen Steam Cleaning MD VA DC
Operated By Calamus Enterprises Llc
Owner: Mike Calamus
(301) 275-5640
Article in Yahoo! Finance about Mike Calamus
CE Kitchen Cleaning Maryland ℠
www.steamcleaning.us
Operated By Calamus Enterprises
(301) 275-5640
HQ Mailing:
12819 Moneyworth Way
Clarksburg, MD 20871
DUNS: 069423871
CAGE Code: 7RQE9

Commercial Kitchen Deep Cleaning Services Maryland and Washington DC
After a long time of use, any kitchen can become a health hazard due to the dirt and bacteria that it carries. Regular cleaning solutions are suitable for daily use, but will not get rid of the core problem – the disease that hides under heavy grease and unreachable crevices. Our company offers a deep steam cleaning solution that will change the look of your kitchen. We reach even the furthest corners of your kitchen, to provide you with results that are safe for you, your team and your customers.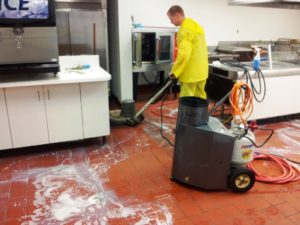 Restaurant Kitchen Deep Steam Cleaning Service Maryland and Washington DC
Depending on the size of the kitchen, we spend anywhere from 2-7 days on site to deep steam clean each section of the kitchen -the preparation, storage, and serving areas. We take pride in our detailed and goal oriented work – to provide you with bacteria-free and sparkling clean kitchen. We disassemble each equipment's removable parts and clean all the kitchen appliances, walls, hoods, floors with a powerful sanitation system. We are extremely cautious on how we treat each surface and appliance in your kitchen, at no point will any of the delicate parts of the equipment be removed or tampered with, and we do not use any heavy abrasive scrubbing on fragile parts. Even though our equipment uses hot steam, water, and environmentally-safe cleaning agents; there will be no unwanted moisture left behind due to our unique suction technique we use during the cleaning process.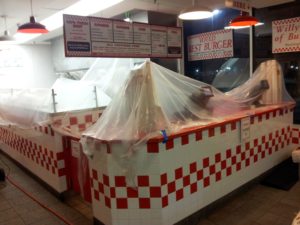 The services that are most popular and that we provide include the following: Whole Kitchen Deep Cleaning, Annual or Semi-annual comprehensive scheduled Deep Cleaning, Kitchen Equipment/ Appliances Deep Steam Cleaning, Kitchen Hood/Vent/Fan Deep Cleaning, Tile and Floor Deep Cleaning, Floor Strip/Wax, Industrial Steam Cleaning, Commercial Deep Cleaning, Machinery Steam Cleaning.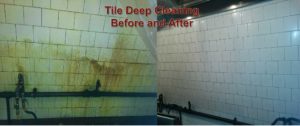 Kitchen Equipment Deep Cleaning Services Maryland and Washington DC
Our team has years of experience in commercial kitchen deep cleaning and can provide you with a specific package to meet the needs of your restaurant kitchen. Further, we offer scheduled services depending on the volume of your foodservice business; we provide either monthly, quarterly, semi-annually or annual deep steam cleaning services. For more questions and a particular quote for your business contact us here [email protected]
CE Kitchen Cleaning ℠ MD VA DC is serving following areas:
Maryland: Baltimore, Annapolis, Columbia, Silver Spring, Dundalk, Wheaton, Ellicott City, Germantown, Bethesda, Frederick, Gaithersburg etc.
Virginia: Arlington, Alexandria, Falls Church, Fairfax, Fredericksburg, Manassas etc.
Washington DC
CE Kitchen Cleaning ℠ is servicemark operated by Calamus Enterprises Llc. Calamus Enterprises Llc is not responsible any damages (health and property) caused by the service. All services rendered hereunder shall be provided in accordance with all ordinances, resolutions, statutes, rules, and regulations of ATN and any Federal, MD State or local governmental agency having jurisdiction in effect at the time service is rendered.