Calamus Enterprises Commercial Steam Cleaning Services takes pride in its record of providing high quality and comprehensive cleaning services to the Maryland, Virginia, Washington DC, North Carolina, Chicago Illinois, Florida, California, and surrounding areas.
Why Choose Us?
* CE is local- owner operated deep cleaning business. The owner or manager is personally involved (cleaning and supervising) in every deep cleaning job!
*We are proud to be the only kitchen deep cleaning company in the MD, VA, NC, IL, FL, CA area to use the latest steam cleaning sanitation systems.
*We are a 100% Commercial Kitchen Deep Cleaning company.  We don't do day-to-day servicing which allows us to put all our focus on your deep cleaning job.
*All of our technicians have a minimum of 10 years' experience in the field.
*Our team is properly trained, certified, background checked, insured and always professional.
*Our work is backed by our 100% guarantee that your business will pass all Fire or Health & Food inspections.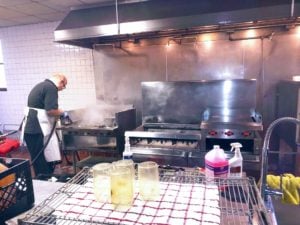 Do you need to estimate how much is to Deep Clean your Kitchen?
Our on-site estimate will cost you a reasonable $50. Free for Non-Profit organizations, schools, hospitals, Churches etc.
However, we can give you Rough/ Ballpark Free Estimate -if you send cleaning description and pic's of the kitchen to our email address [email protected]
As we don't have a centralized call center, Please call straight to our local manager:
MD VA DC: 301-275-5640
North Carolina: 919-307-6611
Chicago, Illinois: 872-216-1793
California: 323-515-9552
Miami Florida: 786-490-7574
Tampa Orlando Florida:813-591-4776
Hood Cleaning Services MD VA DC 301-215-0825
How much it will cost to properly deep clean my kitchen?
Prices for Kitchen Exhaust Hood and Fan Deep Cleaning start from $495 ( we do only yearly deep cleaning)-Hood cleaning service is only available for Non-profit organizations, schools, government buildings, churches, and embassies etc. Hood Cleaning Services MD VA DC call Sam 301-215-0825
Commercial Kitchen and Equipment Steam Deep Cleaning prices start from $1500, average small size kitchen would cost $1500-3500- and 2-4 days to deep clean. Special prices for Non- Profit organizations, churches etc.
CE Commercial Kitchen Cleaning – we are currently incredibly busy and dates are filling quickly, please pre-book our services advance.
To Pre-book our services please email Mike: [email protected] Today!
About Calamus Enterprises Commercial Steam Cleaning Services:
CE has more than 12 years steam cleaning experience with a crew who are properly trained, insured and always professional. We promise uncompromising quality and follow all EU ISO 9001:2008 standards. We NEVER cut corners. We only use the highest grade chemicals, professional equipment, and cleaning methods.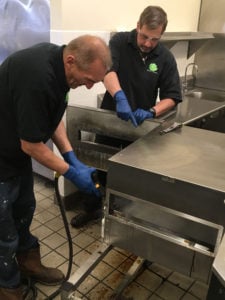 CE is an independent company.  All work is done by our team, never sub-contracted to other companies or individuals. The technician's carry out all correspondence, there is never a middle man or a call center.  CE strives to maintain the highest level of customer service and satisfaction by becoming involved with their clients. As an independently owned business, we have the ability to cater to individual client's needs and requests directly and efficiently.
Over the past 10 years, our outstanding cleaning expertise and superior detail-oriented work have enabled us to publically serve many well-known companies and organizations, hospitals, schools and universities, churches, restaurants, corporate HQ's, embassies, and various non-profit organizations to name a few.  Some of our clients include Whole Foods, Towson University, Discovery Communications, Hilton, Washington Cathedral, Pfizer, Sodexo, Dulles International Airport, Supreme Court etc.
We are so confident in our professional and quality work that we 100% guarantee that your business will pass any Fire or Health & Food Inspection in any city!
CE Kitchen Cleaning ℠ MD VA DC is serving the following areas:
Maryland: Baltimore, Annapolis, Columbia, Silver Spring, Dundalk, Wheaton, Ellicott City, Germantown, Bethesda, Frederick, Gaithersburg etc.
Virginia: Arlington, Alexandria, Falls Church, Fairfax, Fredericksburg, Manassas etc.
Washington DC
California: Los Angeles, San Diego
North Carolina
Chicago Illinois
CE Kitchen Cleaning ℠ is servicemark operated by Calamus Enterprises Llc. Calamus Enterprises Llc is not responsible for any damages (health and property) caused by the service. All services rendered hereunder shall be provided in accordance with all ordinances, resolutions, statutes, rules, and regulations of ATN and any Federal, MD State or local governmental agency having jurisdiction in effect at the time service is rendered.
Sitemap: