Kitchen Deep Cleaning Services Chicago Illinois
CE Kitchen Deep Cleaning Chicago offers high-quality kitchen deep cleaning and kitchen equipment cleaning services to Chicago, Illinois, and surrounding areas. With over 12 years of expertise, our team removes even the heaviest grease, grime and dirt off of any commercial kitchen surface.
CE Kitchen Cleaning Chicago ℠
https://www.steamcleaningchicago.us
9502 Prairie Edge Rd
Wonder Lake, IL 60097
Email: [email protected]
Manager: Siri Press
Phone: (872) 216-1793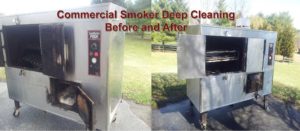 Our work results in a hygienic food service area that will receive a passing grade from health, food and fire inspectors.
Commercial kitchens need regular deep steam cleaning for multiple reasons. First, the common health risk affecting commercial kitchens are the spread of bacteria and disease, for example, salmonella, e.coli, and listeria. Even though mopping, wiping and conventional cleaning agents are ideal for routine cleaning, they are not able to eliminate bacteria, due to not being apparent to the bare eye and often hiding in the deepest crevices. Plus, a unhygienic kitchen is a perfect habitat for pest, mice, and rats. Therefore, deep kitchen cleaning should be part of a regular kitchen cleaning schedule as the steam can reach even the heaviest dirt, kill bacteria on contact and assist in the prevention of pest and rodents. Additionally, deep kitchen cleaning is particularly beneficial for kitchen equipment, as the extra grease and dirt that collects in an appliance can affect the lifespan of kitchen equipment.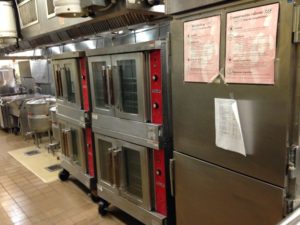 Depending on the scope of the work and size of the kitchen, our highly trained professionals can spend up to 7 days to upgrade the cleanliness of your foodservice area. During this time, our technicians disassemble each equipment's removable parts and clean each area of the kitchen in detail.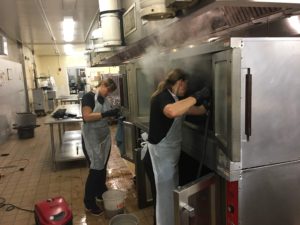 Our trained professionals use only the highest standard of deep steam cleaning – Sanitech Mark 3 and ModoVap sanitation systems. Through our heavy-duty equipment, certified technicians and years of expertise we can offer any commercial kitchen with an ultimate deep cleaning solution. The products and technique we use are environmentally friendly and much more time efficient and thorough than any conventional cleaning solution.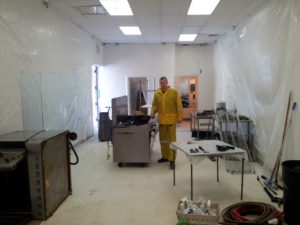 In the past, our company has had the honor to serve hundreds of restaurants, schools, hospitals, churches and more. We guarantee high-quality service by EU ISO 9001:2008 standards and are a licensed deep cleaning service for the U.S. government. Contact us now to receive a quote for your particular kitchen area and let us upgrade the look of your kitchen.
CE Commercial Kitchen Deep Cleaning serving Chicagoland – Chicago metropolitan area: Chicago, Illinois,  Aurora, Elgin, Joliet, Kenosha, Naperville, Arlington Heights, Berwyn, Bolingbrook, Cicero, Des Plaines, Evanston, Gary, Hammond, Mount Prospect, Oak Lawn, Oak Park, Cook County, DeKalb County, Lake County, DuPage County,Will County, Kane County, Lake County etc.
CE Kitchen Cleaning ℠ is servicemark operated by Calamus Enterprises Llc. Calamus Enterprises Llc is not responsible any damages (health and property) caused by the service. All services rendered hereunder shall be provided in accordance with all ordinances, resolutions, statutes, rules, and regulations of ATN and any Federal, MD State or local governmental agency having jurisdiction in effect at the time service is rendered.