Kitchen Deep Cleaning Services Virginia
CE Kitchen Cleaning Virginia serves Maryland, Washington D.C. and Northern Virginia area. The company provides solutions to any commercial company serving food and looking for a kitchen steam cleaning service or kitchen equipment steam cleaning with a promise of passing health and fire inspections. The company is a licensed professional for the U.S. government agencies, Military  and guarantees EU ISO 9001:2008 quality of service.
Contact Information:
CE Kitchen Cleaning Virginia ℠
(301) 275-5640
Manager: Mike Calamus
www.steamcleaningvirginia.us
Operated By Calamus Enterprises
6312 Seven Corners Center #362
Falls Church VA 22044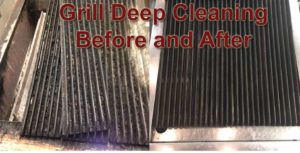 Commercial kitchens after a while start to collect grease, grime and become prone to bacteria and disease. While mopping and wiping with commercially available cleaning agents cleans the top surface, it is the hidden crevices and deep surface dirt that affect the hygiene of restaurant kitchens. The most optimal solution is professional restaurant cleaning service, in particular deep steam cleaning, which kills bacteria in contact and reaches even the furthest corners of your kitchen. Additionally, keeping a kitchen clean is not only hygienic but prolongs the lifespan of the kitchen equipment and prevents food posed health risks.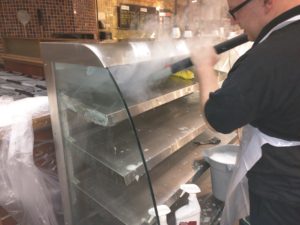 Commercial Kitchen Deep Cleaning Virginia
Deep steam cleaning requires heavy duty machines, but also knowledgeable professionals. Even though steam cleaners are commonly part of any kitchen equipment, it is the commercially equipped steam cleaners combined with the professional knowledge that can deep clean a commercial kitchen. Besides the knowledge of using the machines, it is important to know the right tools for various surfaces, for example, the different techniques for wood, tiles, ceramic and stainless steel cleaning. Each surface requires a special nozzle, appropriate water temperature, and cleaning agent or depending on the area sometimes just pure water. The level of moisture is regulated by the steam machine as well. The excessive water is absorbed immediately by using a suction method, leaving the kitchen sparkling clean and ready to use.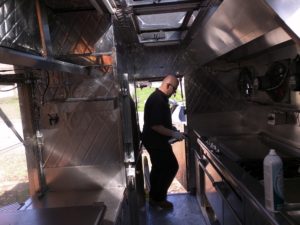 Kitchen Deep Steam Cleaning Service Northern Virginia
All of our technicians have gone through training and background checks, making them well equipped for any commercial kitchen cleaning services. Our most popular services include – kitchen exhaust hood cleaning, sidewalk steam cleaning, kitchen cleaning service, kitchen hood cleaning, commercial cleaning services for cooking equipment, restaurant deep cleaning, tile and grout cleaning, food truck cleaning, concrete floor cleaning, and deep fryer cleaning service.
Besides serving U.S. government, we also have provided our services to publicly recognized companies – Towson University, Discovery, Washington Cathedral, Sentara Potomac Hospital, The Woman's Industrial Exchange, to name a few. We provide any kitchen with a comprehensive solution to match our client's needs. For further questions and a quote contact us here [email protected]
CE Commercial Kitchen Steam Cleaning Virginia is serving following areas:
Virginia: Arlington, Alexandria, Falls Church, Fairfax, Fredericksburg, Arlington, Clarke, Culpeper, Fairfax, Fauquier, King George, Loudoun, Prince William, Spotsylvania, Stafford, Warren, Manassas, Manassas Park, Reston, Tysons Corner, McLean, Great Falls, Fairfax, Oakton, Springfield, Burke, Annandale, Chantilly, Centreville, Clfiton, Sterling, Ashburn, Potomac Falls, Countryside, Middleburg, South Riding, Hamilton, Leesburg and Dulles International Airport
CE Kitchen Cleaning ℠ is servicemark operated by Calamus Enterprises Llc. Calamus Enterprises Llc is not responsible any damages (health and property) caused by the service. All services rendered hereunder shall be provided in accordance with all ordinances, resolutions, statutes, rules, and regulations of ATN and any Federal, MD State or local governmental agency having jurisdiction in effect at the time service is rendered.