Commercial Kitchen Cleaning Columbia Maryland
CE Steam Cleaning Services Columbia Maryland,  with more than 12 years steam cleaning experience and following EU ISO 9001:2008 standards, we can offer the best complete deep cleaning service to restaurants and commercial kitchens. Our crew is properly trained, insured and extremely professional.Kitchen Cleaning Columbia
Are you looking for a reliable hood cleaning company that will guarantee to pass your local Fire or Health & Food inspector inspection?
Are you worried your current cleaning company isn't pulling a permit?
We as independent, professional company  will  100% guarantee that Your Business will pass any Fire or Health & Food inspection in any city!
We are serving Maryland, Virgina, Washington DC, Columbia and surrounding areas.
Restaurant kitchen cleaning service is designed to help you maintain the highest possible standards of hygiene.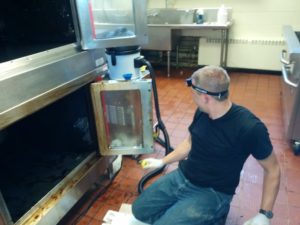 Ovens, grills, deep fat fryers, extractor fans, walls, tiles, grouting, floors, etc will be steam cleaned in your kitchen, at a time that suits your business, leaving your kitchen germ free, smelling fresh and most importantly within the health and safety guideline.
If you work in the food preparation industry you will be no doubt be well aware of the stringent rules and legislation governing the condition a professional kitchen must be kept in.  Food Hygiene and Safety state law is regulated by state and local health department – it goes into great detail about the proper maintenance of a working kitchen but maintaining the best standards can be difficult, especially when you are trying to run a business.Kitchen Equipment Cleaning Columbia MD
However, this need never be a problem again if you choose CE Commercial Kitchen Cleaning Columbia Maryland.
Commercial kitchen cleaning Columbia Maryland can be broken down into a number of categories, which are all equally important if you want to maintain hygiene levels that are compliant to the applicable legislation.
Structural cleaning
Cooking equipment cleaning
Extraction cleaning
Duct-work cleaning
At CE Commercial Kitchen Cleaning Columbia Maryland  we are committed to maintain your kitchen to the very highest standards, and the benefits of this include the following points:
Avoid risk of prosecution
Create a space with better working conditions
Reduce risk of contamination by bacteria
Reduce risk of pest infestation
Improve the image of your business
Maintaining hygiene standards is essential in the food preparation industry so ensure your establishment is up to scratch, by choosing us as your commercial kitchen cleaning experts.
Prices for Kitchen Exhaust Hood and Fan cleaning start from $495
We don't do hard selling or have hidden fees
Call Mike for a Quote, Cell: (301) 275-5640
We are using top of the line Sanitech Mark 3 sanitation steam cleaning system.
The Mark 3 Series incorporate a new thermal technology to produce pressurized wet steam (up to 350F) that cleans and sanitizes without using any harsh chemicals or detergents.
CE Commercial Kitchen Steam Cleaning MD VA DC is serving following areas:
Maryland: Baltimore, Annapolis, Columbia, Silver Spring, Dundalk, Wheaton, Ellicott City, Germantown, Bethesda, Frederick, Gaithersburg etc.
Virginia: Arlington, Alexandria, Falls Church, Fairfax, Fredericksburg, Manassas etc.
Washington DC